This pic just says I'm bloody horny so get over here and eat me, lick me, suck me make my squirt then fuck me hard xxx.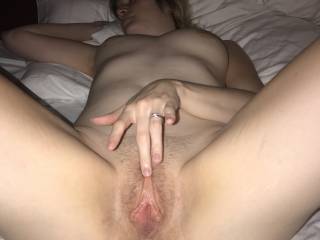 I love you…. Very sexy Your body got me hot wet and throbbing. You are so hot and sexy! I want to lick and suck your luscious clit til you cum over and over. Then slide my hard long thick swollen dick in there. I would like to sink my cock inside you and squirt my cream on top of you You are wonderful. Thank you for your nice to see. Your man is lucky. Kiss it, bite it, lick it, smack it, push it, pull it, grip it, hold it, rub it, spread it, fuck it.
 Massage it all over with my warm stiff cock, left, right, up and down both inner thighs, slapping against your pussy lips over and over, rubbing your hard clit until your juices coat me and are running down your thighs. I'd love to lick your gorgeous pussy lips and suck your erect clit for hours and hours! I wanna taste your sweet juice as you cum all over my face! Such a Beautiful Body laying there in wait, Love the Open Pussy Lips ready for either a Tongue or a hot cock to make Love to it. I dont need to be ask twice honey. Let me lick you till you cum then a nice slow deep fucking before i cum in you or over you xx.