Mmm I want to lick and suck your hard nipples until your pussy is soaking wet and ready to fuck.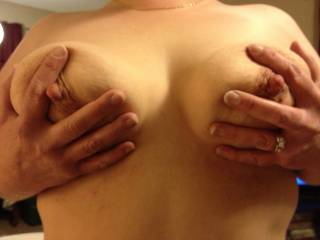 Kiss them, bite them, lick them, smack them, push them, pull them, grip them, hold them, rub them, squeeze them, fuck them.
 Massage it all over with my warm stiff cock, left, right, up and down, circles on your nipples until my clear pre cum is dripping from your nipples. Mmmmmmmmmmm Very Delicious tits and nipples! I'd Love to kiss, lick, nibble and squeeze with my strong hands 😘😜 I'd suck your wonderful nipples as long as you liked me to. Looks so delicious. Would you like them bitten lightly as I suck them? I would love to feel those nipples dancing across my lips and the tip of my tongue not to mention the head of my silky wet dick. That's the stuff that dreams are made of. If I get carried away I may playfully bite them too. Is that OK?